Hawaii
Wednesday, October 1, 1851
Imperforate, pelure paper, no watermark, typeset.
Printed by Government Printing Office, Honolulu.
Description
# known unused
# known used
# known on cover
Scott #
October 1, 1851, Hawaiian Postage

2¢ blue

1
13
1
1

5¢ blue

12
40
10
2

13¢ blue

7
51
12
3

Early (April?) 1852, H.I. & U.S. Postage

13¢ blue

8
34
9
4
All issue quantities are approximate.
The obvious place to look for more information is at the Post Office in Paradise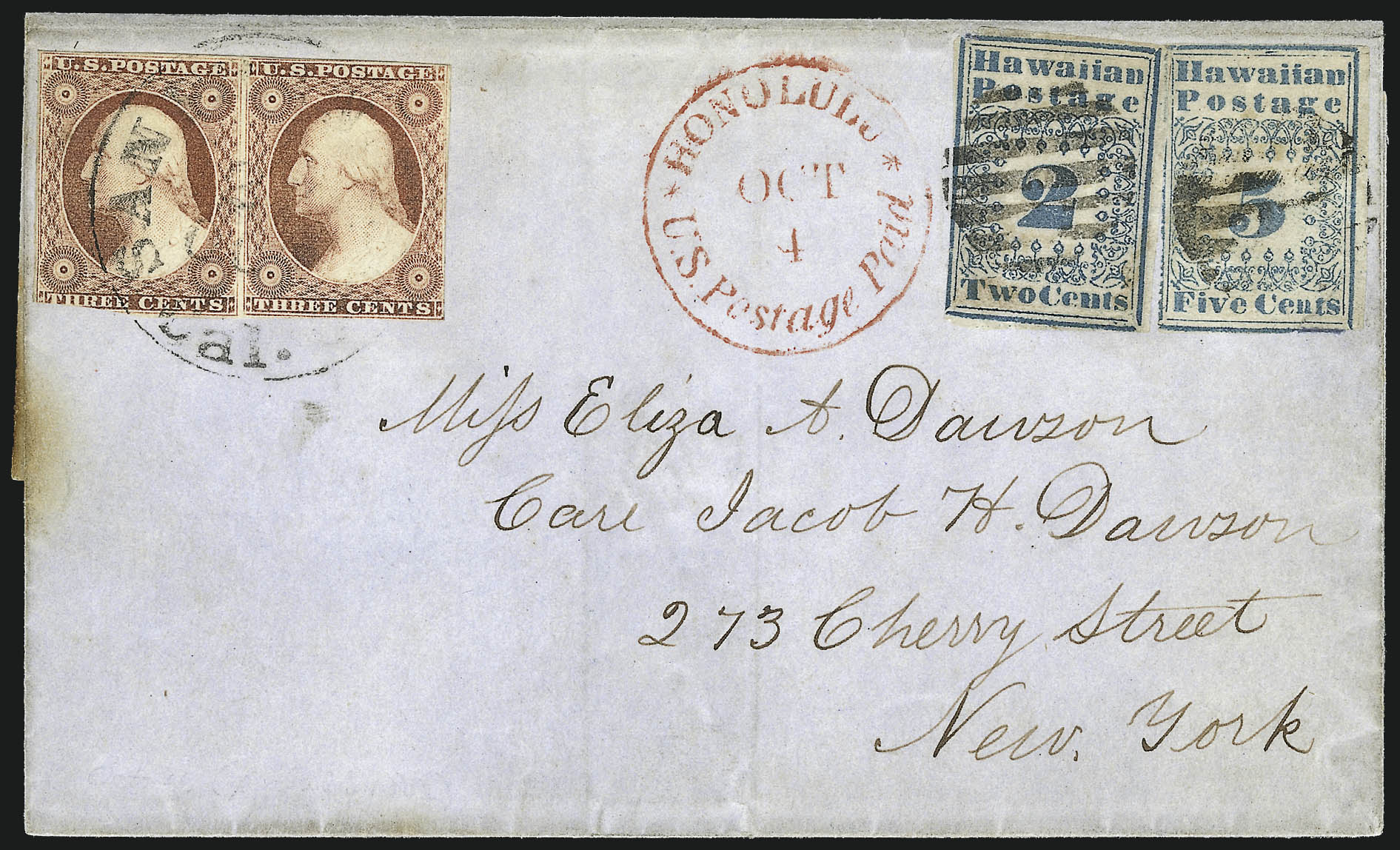 The Dawson Cover
The image of the Dawson Cover is from Wikipedia where it is described as "The most valuable of all Missionary items is a cover sent to New York City bearing the only known use of the 2-cent value on cover, as well as a 5-cent value and two 3-cent US stamps."
Here is the image credit.
" Dawson Cover" by Original upload was Fconaway at en.wikipedia - 2014 upload from http://www.siegelauctions.com/2013/1045/11.jpg linked from this June 2013 Siegel auction webpage2013 upload from https://www.glenstephens.com//snseptember13.htmlOriginally from en.wikipedia; description page is/was here. It is the "Hawaii Missionary Fragment" Frajola Philatelist http://www.rfrajola.com/features/dawsontwin/dawsontwin.htm. Licensed under Public Domain via Commons.
Provisional Government

Republic

US Territory

Princess Victoria Kamamalu
1893 Sc54 SG54
o/p Sc30 SG27
1894 Sc74 SG77
1899 Sc80 SG89
In 1893, external machinations over sugar rights brought about a provisional government, followed in 1894 by the proclamation of a republic. In 1900 Hawaii became a territory of the United States and in 1959 the 50th American State. It has used US stamps since June 1900. Including administration changes provides a useful increase in the granularity of a first issues collection.
Image sources: JM1, LMW1, NB.
| | |
| --- | --- |
| FI ref: 31 | Page credit: NB |
| | |
| --- | --- |
| Page created 18 Nov 2015 | Page updated 18-Aug-2017 |