New Britain
17 October 1914
| | | |
| --- | --- | --- |
| | | |
| | New Britain 1914 Sc30b SG50c | xxx |
Description
Scott

†

SG

†

Mi
Y&T
German New Guinea surcharged
1 penny on 3 pfennigs brown
1
1
other values and variants
2-29G
2-30
† There are too many values and variants to document sensibly and the differing Scott and Gibbons approaches mean that matching across catalogues would be difficult.

Scott [1] states that "The island Neu-Pommern, a part of former German New Guinea, was captured during World War I by Australian troops and named New Britain. Following the war it was mandated to Australia and designated a part of the Mandated Territory of New Guinea. See German New Guinea, North West Pacific Islands and New Guinea. "
Gibbons [2] lists these under Australia, New Guinea. "G.R.I." stands for Georgius Rex Imperator, King George V.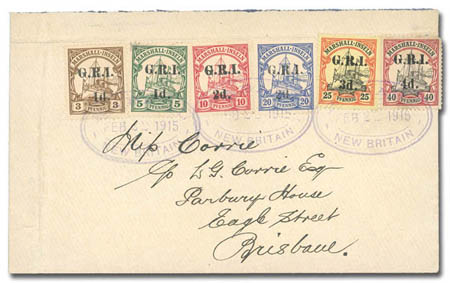 New Britain entire
Scott 30, 31d, 32-34, 36