Guinea disambiguation
Disambiguation is a splendid word, often used but not coined by Wikipedia.
The various Guineas provide plenty of opportunity for confusion and the intention for this page is to provide clarification.
The first thing to note is that there are African and Pacific Guineas. The African are relatively straightforward; the Pacific are more difficult, partly because of differences between the Scott and Gibbons catalogues.
The African Guineas
The original colonies were part of the Scramble for Africa. Wikipedia notes, "Established empires, notably Britain, Portugal and France, had already claimed for themselves vast areas of Africa and Asia, and emerging imperial powers like Italy and Germany had done likewise on a smaller scale. With the dismissal of the aging Chancellor Bismarck by Kaiser Wilhelm II, the relatively orderly colonisation became a frantic scramble. The 1884 Berlin Conference, initiated by Bismarck to establish international guidelines for the acquisition of African territory, formalised this "New Imperialism". Between the Franco-Prussian War and the Great War, Europe added almost 9 million square miles (23,000,000 km²)—one-fifth of the land area of the globe—to its overseas colonial possessions." With varying degrees of reluctance, the European powers reqlinquished their colonies in the 1950s and sunbsequent decades.
| | | |
| --- | --- | --- |
| | | |
| Guinea | Guinea-Bissau | Equatorial Guinea |
The Pacific Guineas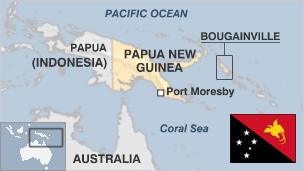 New Guinea
Starting with Wikipedia on the current situation, "New Guinea is an island to the north of Australia, but south of the equator. Politically, the western half of the island comprises two provinces of Indonesia: Papua and West Papua. The eastern half forms the mainland of the country of Papua New Guinea".
Historically (extracted from an extensive BBC timeline here),
1884 - Britain establishes a protectorate over south-east New Guinea, while Germany annexes the northern part of New Guinea.
1906 - Control of British New Guinea transferred to the newly independent Commonwealth of Australia and renamed Territory of Papua.
1914 - Australian forces occupy German New Guinea during World War I.
1921 - After the war the League of Nations grants Australia a mandate to run German New Guinea. This new Mandated Territory of New Guinea is governed totally separately from the Territory of Papua.
1942 - Japanese forces occupy parts of both territories.
1949 - Australia establishes a joint administration over both territories called the Territory of Papua and New Guinea.
1951 - A 28-member Legislative Council established by Australia.
1961 - First elections involving indigenous population.
1963 - UN transfers control of West New Guinea to Indonesia. Today this region is called Papua.
1971  - East renamed Papua New Guinea (PNG).
1975 16 September - Attains full independence from Australia.
The late Floyd Walker (FICC #14) addressed the philatelic history in the Journal in 1999, quoted at length on the page for British New Guinea.
As a final complication, Gibbons [1] lists several relevant entities under Australia because they were under Australian administration.
Listed below are all the entities, linked to the pages on which they appear and the Scott and Gibbons entries are noted.
| Scott listing | Date | Gibbons listing |
| --- | --- | --- |
| German New Guinea | 1897 | German New Guinea |
| Papua | 1901 | British New Guinea |
| New Britain | 1914 | Australia / New Guinea / Australian Occupation (SG1+) |
| North West Pacific Islands | 1915 | Australia / New Guinea / Australian Occupation (SG65+) |
| New Guinea | 1925 | Australia / New Guinea / Mandated Territory of New Guinea (SG125+) |