St. Thomas and Prince Islands
1869
perf 12½, 13½, no wmk, typographed
Printed by The Mint, Lisbon
| Description | Date issued | Scott# | SG# | Mi# | Y&T# | |
| --- | --- | --- | --- | --- | --- | --- |
| 5 reis black | 1869 | 1 | 1 | | | |
| 10r yellow | 1869 | 2 | 2, 2a | | | |
| 20r bister | 1869 | 3 | 3, 3a | | | |
| 25r rose | 1869 | 4 | 4a | | | |
| 25r red | 1869 | 4a | 4 | | | |
| 40r blue | 1875 | 5 | 12 | | | |
| 50r grey | 1869 | 6 | 5, 5a | | | |
| 100r grey-lilac | 1869 | 7 | 6, 6a | | | |
| 200r red-orange | 1875 | 8 | 15 | | | Gibbons' issue date is 1877 |
| 300r chocolate | 1875 | 9 | 16 | | | -ditto- |
Scott identifies die variations for Sc1, 2, 4, 5 and 6
Gibbons has a first issue date of 1870 and noted additional colour variations.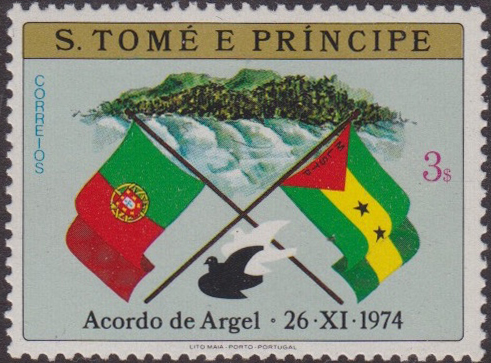 Independence
1975 Sc411 SG471
Two islands in the Gulf of Guinea, 125 miles off the coast of West Africa. The date of the first issue is not known. The Islands produced some attractive stamps in past times, but since the 1960s they have entered the wallpaper market and produce endless commemoratives for thematic collectors: Gibbons Simplified ignores everything from 1977.
Independence was achieved in 1975.