Tuvalu
1st January 1976
↓ - Niutao and other island issues
perf 14, litho
Description
Scott
SG
Mi
Y&T
Gilbert & Ellice Islands overprints
1 cent
1
5-27

†

other values 2c to $s
2-15
† Gibbons lists a dedicated Tuvalu set of three as the first issue and numbers the overprints differently, presumably by issue date.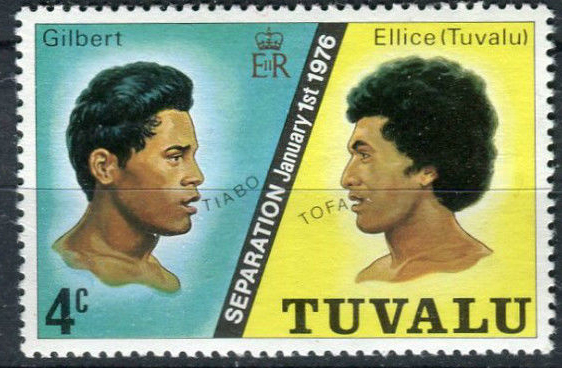 1976 Sc16 SG1
Formerly the Ellice part of the GB colony, Gilbert & Ellice Islands. It separated into the Gilbert Islands and Tuvalu in 1976.
---
Niutao
1985 Sc1 SG-
Niutao
To paraphrase Linn's World Stamp Almanac [1], this is one of the nine small islands of Tuvalu. "Like the other Tuvalu islands [Funafuti, Nanumaga, Nanumea, Nui, Nukufetau, Nukulaelae and Vaitupu], Niutao issued a flurry of stamps depicting such diverse subjects as cars, locomotives, cricket players and the British royal family in the mid-1980s".
Scott numbers many of the issues for all the islands the Gibbons only lists the subjects and denominations. Niutao's first issue depicted cars in se-tenant pairs, beginning with a 15 cents 1930s Bentley, probably the stamp shown.