Categories - Italian States and Colonies
Below are [or will be, eventually] listed the main groupings of colonies, states, etc..
Country Categories: Africa since independence - Asia - Caribbean - Central and North America - Europe - Middle East - Oceania - South America
Colonies, States, Occupation, Offices etc.: Argentina - Austria - Belgium - China - Colombia - Denmark - France - Germany - Great Britain - Greece - India - Italy - Japan - Lithuania - Malaya - Netherlands - Nicaragua - Peru - Poland - Portugal - Russia - Spain - Switzerland - US Entities - UN - World Firsts
---
The end of Italian States and the beginning of Italy are not treated particularly sensibly by all of the catalogues. The Italian states had been united by 1860 under Sardinia's King Victor Emmanuel II but national stamps were not issued for two years. During that period the individual states' stamps were still used, gradually replaced by the stamps of Sardinia and then the 1862 national stamps were the Sardinian issues with perforations.
Naples and Sicily are also rather clumsily handled.
| Scott Entity | Year | Sc # | Gibbons entity | SG # |
| --- | --- | --- | --- | --- |
| Naples | 1858 | 1-7 | Naples | 1-5 |
| Provisional Government | 1860 | 8-9 | Naples, Garibaldi Regime | 8-9 |
| Sicily | 1859 | 10-18 | Sicily | 1-7 |
| Neopolitan Provinces | 1861 | 19-27 | Neopolitan Provinces | 1-25 |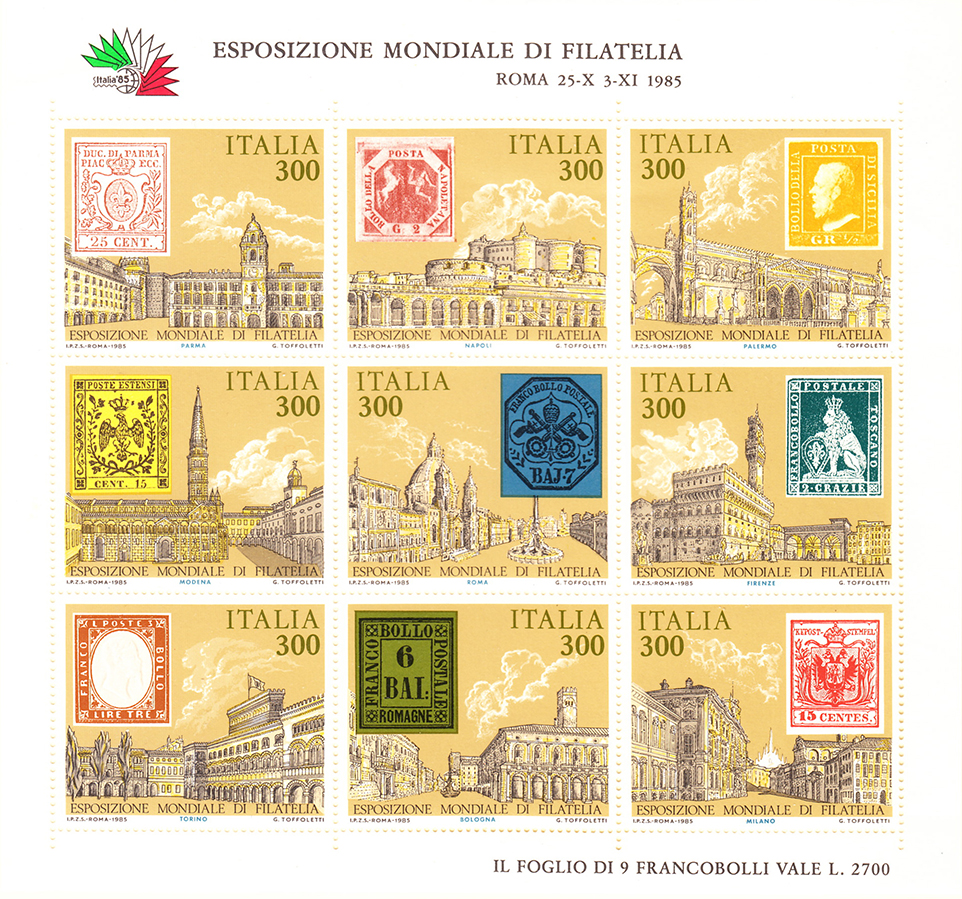 Italy, miniature sheet
1985 Sc1651 SG
| | |
| --- | --- |
| Page created 25 Jan 2016 | Page updated 31-Jan-2017 |